Organisational Chart
Under the Administration menu you will find all of the categories you can add to your organisation chart.
Select any of the options and it will display the current list.
To insert new items click Add New, type in a Title and click Save.
At any stage you can edit an entry by double clicking or selecting the edit icon.
Once you've entered the divisions, branches, territories, departments and positions etc. you can start constructing your Organisation Chart.

Select "Chart" from the Organisation Chart options, it will have your Company Name at the top.



To start building your chart right click on the box and select Add.
Work your way through adding items as required.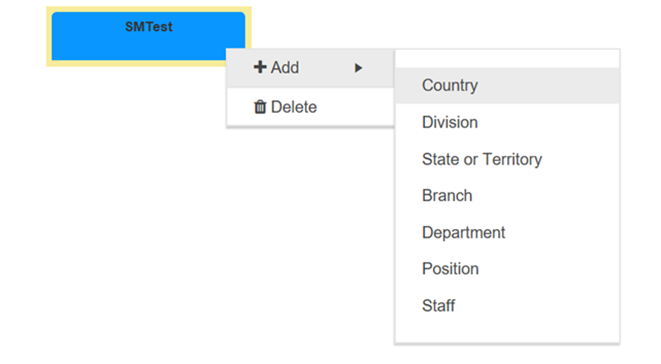 To add items on the same level you will need to click on the level above e.g. if you want to add another country right click on SMTest and select add country.


To add staff they must be assigned to a position. Once you have added the position right click and select staff from the available list. As you can see below it then shows the person, with their position and any roles/responsibilities assigned to them.
You can also collapse and expand sections of the chart by hovering over the field and clicking the green arrows on the four sides.
In the example below we clicked the bottom arrow which collapsed the Sales & Marketing Department. You can make them reappear by clicking the arrow again.
You can also export your Organisation Chart to a PDF for printing by clicking on the Export button. Then either Open or Save/Save As, if you're PDF does not open then it is possible that you do not have a default PDF reader setup on your computer.